---
Doll Sale Going on!!!
Click here for more details
A home page dedicated to One Of A Kind Dolls My interest in One Of A Kind dolls began almost five years ago after a Home Shopping Club Sell-A-Thon special where they were talking about how they design and make Dolls.

The special was hosted by one of the industries professional doll makers. With my background in Visual Display, Fashion Design, my love for sewing since the age of four, and all my artistic talent, I thought I could do it and here I am almost five years later doing something that brings all of my greatest loves together- dolls, fashion, sewing and art.

This is a great place to find specialty dolls, links to doll suppliers, Yahoo Groups involving dolls, news and gossip about dolls from time to time.

Charlie Dale is a featured Artist in Jim Farone's 5th book, Ultimate Fashion Doll Makeovers - Tips From the Experts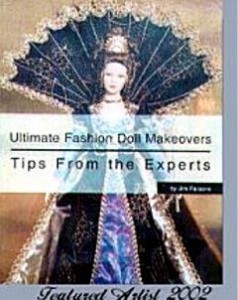 ---
*Barbie is a registered trademark of Mattel
They are in no way affiliated with "Strictly Dolls"
Copyright © Strictly Dolls. 2002 All rights reserved.